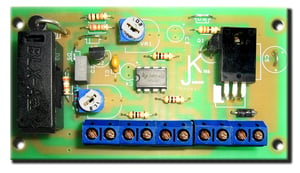 $

27.95 - On Sale
New board with many improvements !!
Description : The new Wind Turbine Load Diversion charge controller board now includes the mounting holes in the corners and the low relay drive components can be mounted on the board without the need to add optional boards. The charge controller has a new layout and can be configure for various voltage systems. Supplied ready assembled and calibrated by experienced technician. The Board is tested and checked and a user manual is supplied.
Features:
*Fuse and polarity protection
*Calibration window is more precise
*Anti trigger suppression
*Now includes low relay drive - drives a relay with half current
* New board layout with system voltage selection*. can be configured to work at 12v or 24v or 36v or 48v
* Requires some components to be altered depending on system voltage.
The Printed circuit board is Professional made and it also has th e silk legend.
What you Get
* Professional Made PCB Pre Drilled and assembled by qualified technician and calibrated with soak testing.
* 2XPush switches and 2 x Leds installed .
* 1 x User Manual .
*Item Ships same Day
6 ,12,24,36,48 Volt Versions now available