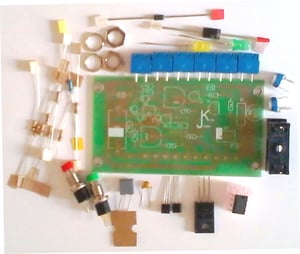 $

18.95 - On Sale
New Improved board with more features.
Available as a KIT or Ready assembled and aligned unit.
Description : Wind Turbine Load Diversion charge controller.
The kit has all the necessary components and booklet with all the detailed instructions is supplied.
The assembled version comes ready built and calibrated in out workshops. the unit is hand built and tested before shipped out.
*New PCB design with mounting holes and LRD included.
*Fuse and polarity protection
*Calibration window is more precise
*Anti trigger suppression
* Board can be configured to work at 6 or 12 or 24 or 36 or 48 volt.(Some components needs to be altered according to voltage selected.)
*Now includes low relay drive on board - drives a relay with half current
The new Green Printed circuit board is Professional made and the top layer has the silk legend.
What you Get
Kit:
* Professional Made PCB Pre Drilled and all components needed to construct this charge controller
* Assembly instructions and user Manual .
Assembled:
Ready built controller board with user Manual.
*Item Ships same Day
6,12,24,36,48 Volt Versions Now available